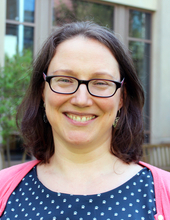 Isabell May, Ph.D.
Program Director
Dr. May earned her doctorate in American Studies from the University of Maryland, College Park. A native of Germany, Dr. May came to the United States on a Fulbright scholarship in 1999 and has resided in Maryland, with a two-year interruption in Lueneburg, Germany, ever since. Before her tenure at UMB, Dr. May oversaw the Writing Center at the University of Baltimore, founded the Writing Center for Academic English at Leuphana University in Luenburg, Germany, and directed the Center for Academic Success at the Universities at Shady Grove. At UMB, she co-teaches the introductory course on library research and scholarly writing for the MHS program at UMB's Graduate school as well as the first two courses in the Science Communication Certificate Program, while also directing UMB's Writing Center. Her research interests are the development of graduate communication skills, science communication, and the revision process in graduate- and professional-level writing. If Dr. May is not busy writing her blog, researching, or working with writers, she can be found in a Pilates or Cardio class in URecFit or at an Orioles game. Dr. May will be teaching the Science Writing Principles and Writing for Scholarly Journals courses.
Michelle Pearce, Ph.D.
Professor
Dr. Michelle Pearce, PhD is a professor in the Graduate School at the University of Maryland, Baltimore and holds an adjunct faculty position at Duke University Medical Center. Dr. Pearce received a Doctoral Degree in Clinical Psychology from Yale University and completed a medical psychology internship and two post-doctoral fellowships at Duke University Medical Center. She is a clinical psychologist, licensed to practice in Maryland. Her program of research examines the role of religion/spirituality in mental and physical health. Her current research focuses on the integration of spirituality into psychotherapy for the treatment of depression, PTSD, and moral injury. Dr. Pearce has a passion for writing. Dr. Pearce has published over 50 peer-reviewed journal articles and book chapters. She has also published a book for mental health professionals called "Cognitive Behavioral Therapy for Christians with Depression: A Tool-Based Primer" and a book for a general audience called "Night Bloomers: 12 Principles for Thriving in Adversity." Dr. Pearce teaches the Writing for the Public course.
Julie Rosen, Ph.D.
Lecturer, the Graduate School
Dr. Rosen is the Director of Strategic Initiatives at American Association for the Advancement of Science (AAAS). She began her career at a biotechnology start-up company where she initiated a project to eradicate methicillin-resistant Staphylococcus biofilms from medical implants. Julie went on to earn my Ph.D. in molecular and cellular biology, with a specific focus in the field of reproductive immunology. Dr. Rosen formerly served as an Assistant Professor in the Department of Obstetrics, Gynecology & Reproductive Sciences at the University of Maryland School of Medicine (UMSOM). Prior to joining the UMSOM, she worked in the communications office at the National Institute of Allergy and Infectious Diseases at the National Institutes of Health. Dr. Rosen was also appointed to the editorial board of the American Journal of Obstetrics and Gynecology as its inaugural Assistant Editor.