Katherine Marconi, PhD, MS
Program Director
Dr. Marconi directs the UMB Graduate School Implementation and Dissemination Science Certificate and teaches in the Global Health Systems program. Her career spans global, national, and local public health, focusing on epidemiology and program evaluation for HIV prevention, care, and treatment efforts and community health projects. In the US State Department she organized the first Office of Strategic Information for PEPFAR – The US President's Emergency Plan for AIDS Relief. There she coordinated global data collection among USG agencies and provided program results to the US Congress and White House. She also organized the science and evaluation office for the Ryan White CARE Act, the government's domestic HIV program. She has been Associate Vice-Dean at UMGC and worked in the Pennsylvania Department of Health. Dr. Marconi has written 30+ articles and co-edited Big Data and Health Analytics. She is active in several public health professional associations.
Clement A. Adebamowo, BM, ChB, ScD, FWACS, FACS
Professor of Epidemiology and Public Health, Institute for Human Virology, School of Medicine

Dr. Asebamowo is a PI for the NIH funded Training Program in Non-Communicable Diseases Research in Nigeria (Traping-NCD) that has trained 12 advanced degrees and post-doctoral trainees to date. Dr. Asebamowo directs the Fogarty funded West African Bioethics Training program which has provided medium term training leading to Certificates in Research Ethics for 842 biomedical researchers, Masters' degree in Bioethics to 34 individuals and Online WAB-CITI Training program to 6115 participants in West Africa.He is also a member of the Population Sciences Program of the Cancer Center and a cancer epidemiologist, and conduct research on the epidemiology of cancer.
Dr. Asebamowo is presently working with colleagues at the University of Maryland Greenebaum Cancer Center and University of Maryland College Park to develop a research program on cancer disparities among Africans in Africa, recent African immigrants to the United States and African Americans in order to better understand the role of genetics, environment cultural and socio-economic factors in cancer prevention, treatment seeking behavior and outcomes.
Patrick Dakum, MBBS, MPH, Dip. Theo
Dr. Dakum is an Assistant Professor in the Department of Epidemiology and Preventive Medicine at the University of Maryland Baltimore School of Medicine, Baltimore, USA. As a public health physician and Chief Executive Officer of the Institute of Human Virology, Nigeria, he has led the Institute to provide HIV counseling and testing for 8.3 million individuals, anti-retroviral prophylaxis for over 85,000 pregnant women, and enrolment of more than 465,000 people into the HIV care program and over 3,000 multi-drug resistant patients into treatment. He obtained his medical degree from the Ahmadu Bello University, Zaria in Nigeria and subsequently his Master's Degree in Public Health at the Lagos University Teaching Hospital, Nigeria. He lectures in both Implementation and Dissemination Science Courses: MHS 613 and MHS 614.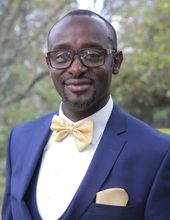 Peter Memiah, DrPH, MSc
Dr. Peter Memiah is an Associate Professor in the Division of Epidemiology and Prevention at the University of Maryland Baltimore and the Director for Quality Improvement for CIHEB, Institute for Human Virology. He is also a fellow in the HIV Intervention Science Training Program (HISTP) an NIH-funded multidisciplinary training program seeking to develop and facilitate the growth of scientists conducting technology driven, HIV-related dissemination and implementation research. He has over 60 publications in peer-reviewed journals.
An internationally recognized expert in Gender-Based Violence, Continuous Quality Improvement and Adolescent Health. .As a consultant, he has led evaluation planning processes for nonprofit, private and public agencies. He teaches MHS 631, Global Non-communicable Disease Epidemiology.
Nadia A. Sam-Agudu, MD
Assistant Professor of Pediatrics, School of Medicine and Senior Technical Advisor, Institute for Human Virology

Dr. Sam-Agudu's interest and career path in infectious diseases are inextricably linked with my goal to improve the health status of children living in resource-limited settings. To date, international research and global health experiences in Ghana, Nigeria, Uganda, South Africa, and Peru have exposed her to different contexts in the prevention and treatment of pediatric infectious diseases. My earliest research experiences were in basic and translational research in the immunology of severe malaria, which have now transitioned into implementation research in HIV prevention and treatment.
Dr. Sam-Agudu has served as IHV-Maryland's Senior Technical Advisor for Pediatric and Adolescent HIV to the Institute of Human Virology Nigeria since 2010. In so doing, has expanded both her research and public health expertise in HIV treatment and prevention. My overarching research goal is to conduct studies that generate impactful evidence for equitable and sustainable health system and policy changes. Dr. Sam-Agudu has found Implementation Science methods to be well-suited to achieving this goal, especially in the resource-limited settings she is working in.
Dr. Sam-Agudu's implementation science and public health projects also provide excellent global-local educational opportunities for motivated students and trainees. These learners are exposed to the health system from the perspective of the populations of interest, and are also able to experience, first-hand, the implementation of research-in-context projects.